QuickBooks Tool Hub In Action
What is QuickBooks Tool Hub?
QuickBooks tool hub is a free desktop application developed by Inuit. It is a collection of different tools to fix common issues and errors with QuickBooks desktop accounting software. Earlier there were different applications for fixing various issues in QuickBooks desktop. QuickBooks provided a network diagnostic tool for fixing networking problems. Similarly, QuickBooks install diagnostic tool was used to fix installation problems and issues with the QuickBooks desktop.
Due to increasing issues in the software, Intuit developed QuickBooks tool hub and bundled all the troubleshooting applications in one tool. It helps users to save time and resources used to download different apps separately.
Now users can download the QuickBooks tool hub instantly and fix common network issues, printing problems, corrupt company file issues, and installation issues. Furthermore, you can reset passwords on the go and get in touch with the QuickBooks support team. QuickBooks users are advised to use the tool hub if they face any issues with QuickBooks desktop software before contacting support.
Requirements for Installing QuickBooks Tool Hub
Stable internet connection.

Microsoft .NET framework.
Microsoft Visual C++ redistributable package.
Steps to Download QuickBooks Tool Hub 2022
Open QuickBooks desktop.
Go to the Help option on the top menu bar.
From the drop-down menu, click on QuickBooks Tool Hub: Fix Setup and File Issues button.
Once you click that button, you will be redirected to the QuickBooks support portal where you can find the documented instructions on how to use tool hub with a download link.
QuickBooks versions prior to 2020 do not come with a built-in tool hub within the software. In this case, users are advised to download tool hub from QuickBooks' official website.
Steps to Download QuickBooks Tool Hub from QuickBooks' Website
Click here to download the QuickBooks tool hub from QuickBooks' official website.
Save the QuickBooksToolHub.exe file to your preferred location.
Double click on the .exe file to start the installation process.
How to Install QuickBooks Tool Hub
Launch QuickBooksToolHub.exe to start the installation process.
Click on Next.
It will ask you to accept and agree to Intuit's license agreement. Click on Yes.
Select tool hub install destination folder and click on Next.
Click Install to begin the installation.
Once you click finish, Tool Hub will start for the first time.
Which Issues Can QuickBooks Tool Hub Fix?
QuickBooks tool hub can take care of common issues and errors that come up while using QuickBooks desktop in your day-to-day workflow. These glitches can affect your company's productivity and corrupt financial records. Let's take a look at how tool hub can help us get rid of common problems related to QuickBooks desktop.
Below is the list of errors and problems that can be rectified using the tool hub in QuickBooks desktop.
QuickBooks 6XXX series errors
QuickBooks HXXX series errors
Errors due to missing component
Damaged company files errors
Printing and PDF errors
QuickBooks freezing, crashing, and not opening error.
QuickBooks not opening after splash screen error
QuickBooks desktop installation errors
QuickBooks company file error and integrity check
Components of QuickBooks Tool Hub
There are 8 tabs in the updated version of the tool hub. Each tab is meant to take care of specific issues. Let's discuss the different options in the tool hub below:
Home
Company File Issues
Network Issues
Program Problems
Installation Issues
Password Reset
Support
Advanced Tool
The home screen gives us some vital information about the tool hub and how we can use it effectively. It also specifies which component to use for specific problems.
Solve Company File Issues
If you have company file issues, select the second tab in the tool hub and Run QuickBooks file doctor. Click here to learn what kind of errors and issues QuickBooks file doctor can fix.
QuickBooks tool hub helps you to fix company file issues starting with the 6XXX series. QB tool hub features the latest version of QuickBooks file doctor. You need to simply run file doctor and specify the location of your company file and it will fix company file issues in a breeze.
Solve Network Issues
If you are facing QuickBooks network issues, go to the Network Issues tab in the tool hub.
QuickBooks tool hub is also very helpful in fixing networking-related issues. If you are using your QuickBooks in multi-user mode and experiencing problems with it. You can run the tool hub and select the network issues tab. This will help you to resolve network errors such as h202, h303, h505, etc. You need to run these steps on the computer hosting your company file. Open QuickBooks database server manager and browse the location to your company file. QuickBooks database manager will scan for the network issues and it will take a couple of minutes to fix them.
Fix Program Problems
If you are facing QuickBooks 6xxx errors, go to Quick Fix my Program in the Program Problems tab in the tool hub.
The program problems tab in the tool hub helps you to fix three kinds of issues in the QuickBooks desktop.
Quick Fix my Program
Quick fix my program tool will clear any background running processes and quickly repair QuickBooks. It should be used frequently if QuickBooks runs slow. It can take 1 minute to a couple of minutes to complete this action.
QuickBooks Program Diagnostic Tool
If your QuickBooks desktop behaves unexpectedly, you can run this tool. It repairs major Microsoft components helpful in running QuickBooks. It may take up to 20 minutes to complete and require a restart. If your QuickBooks program freezes or crashes frequently, you can run this tool to get rid of such issues.
QuickBooks Print & PDF Repair Tool
If you are having issues with printing and saving PDFs within QuickBooks this tool can be handy in fixing the problem.
Troubleshoot Installation Issues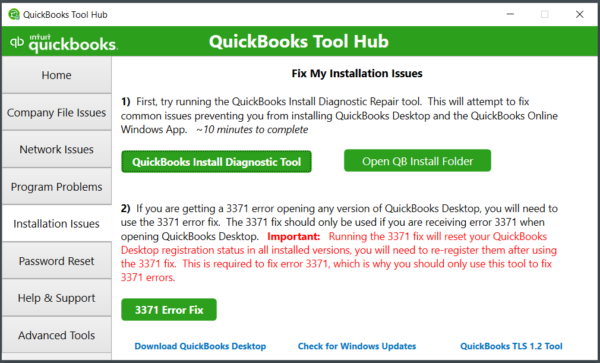 For installation problems and errors in QuickBooks, go to the Installation Issues tab and select the appropriate option. If you need to perform a clean install, go to Clean Install Tool. Click here to learn how QuickBooks install diagnostic tool can help.
This section in the tool hub comprises two tools wiz; QuickBooks clean install tool and QuickBooks install diagnostic tool.
Password Reset
For resetting the passwords for the QuickBooks desktop, go to the Password Reset tab. Password reset tab in tool hub aids in resetting the password of QuickBooks desktop US version, UK and CA versions. Please click on the provided links for the same.
Help & Support
For QuickBooks support, you can check out different channels to learn how you can get in touch with Intuit QuickBooks support team.
Advanced Tools
Intuit added more new features in the upgraded version 1.5.0.0 of the QuickBooks tool hub. It just makes troubleshooting QuickBooks issues a lot easier. Let's take a look at these newly added tools.
Advanced Tools in the tool hub contain 14 buttons that make resolving QuickBooks' problems and issues more convenient. This tab is meant for advanced users or Qualified IT professionals only. Get in touch with our support team to resolve issues with your QuickBooks.
QuickBooks Tool Hub Download
QuickBooks Tool Hub
QuickBooks tool hub is a free to use launchpad to fix different errors and issues in QuickBooks desktop accounting software.
Price: Free
Price Currency: $
Operating System: Windows 7, 10, 11
Application Category: Accounting