QuickBooks install diagnostic tool as the name suggests helps you to diagnose issues while installing QuickBooks desktop accounting software. With the help of this tool, you can fix any installation error in QuickBooks desktop. As a matter of fact, you can come across a lot of errors while installing QuickBooks Pro, Premier or Enterprise version. This tool will surely be of additional help in identifying and fixing any QuickBooks error while installing the software.
It is cited by the QB users that QuickBooks install diagnostic tool was of great help. Below is the list of errors that you can easily fix with the help of this tool.
Error 1402
Error 1722
Error 1603
Error 1935
Error 1903
Errors related to damaged MSXML and C++
Microsoft .NET Framework errors
"QuickBooks has stopped working" messages when opening QuickBooks Desktop
Fix QuickBooks Installation Errors with QuickBooks Install Diagnostic Tool
Step 1: Using QuickBooks Tool Hub
QuickBooks tool hub is a new integrated application introduced by Intuit which has all QuickBooks tools in one place to fix QuickBooks issues and errors. It comprises of all QuickBooks tools which can be downloaded directly from Intuit. QuickBooks install diagnostic tool can be accessed within QuickBooks tool hub. You just need to download QuickBooks tool hub in order to run QuickBooks install diagnostic tool.
Download Link: http://dlm2.download.intuit.com/akdlm/SBD/QuickBooks/QBFDT/QuickBooksToolHub.exe
Steps to Run QuickBooks Tool Hub
Close all the windows and applications including QuickBooks.
Download QuickBooks tool hub from Inuit's Official website.
After downloading, run QuickBooksToolsHub.exe
Start the installation process and agree to terms & conditions
Once the installation process is complete, you can use the tool from the icon created on your desktop screen
Step 2: Run QuickBooks Install Diagnostic Tool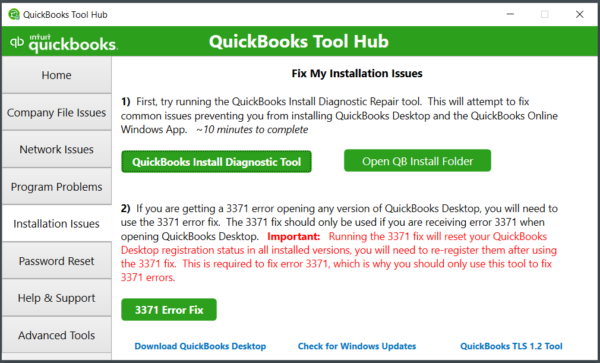 Click open QuickBooks tool hub from desktop or do a Windows search
In QuickBooks hub tool, from the list of options select Installation Issues
Select QuickBooks install diagnostic tool and let it start the diagnostic tests. It can take several minutes so please be patient.
Once the tool has finished processing the data, restart Windows.
Step 3: Update and Repair Windows Components
There are certain Windows components that are required by QuickBooks. In case these components are outdated or not installed you can encounter QuickBooks installation errors. We can manually update and download these components to get the most common installation error fixed in QuickBooks.
Check for Microsoft .NET Framework. If it is not already installed, download and install the latest version from the Microsoft official website.
Similarly check for Microsoft MSXML, if it is not installed, download and install it from Microsoft website.
You can also try repairing .NET Framework and Microsoft MSXML in case they are corrupted or outdated.
Step 4: Update your Windows Operating System
There may be a possible reason that a Windows update is preventing QuickBooks installation. You can manually update windows depending upon the version that you are using. Please refer to the following article from Microsoft for steps on updating your Windows.
Select the version of Windows that you are using from the drop-down.
Once the installation and update process is finished, restart your computer.
Open QuickBooks with your preferred company file and check if the error is resolved.
For updating your Windows operating system you may require help of a qualified IT professional. Please contact our support team for instant help with updating your system and software.
Direct Method to Download and Install QuickBooks Install Diagnostic Tool
Here is the direct method to install QuickBooks install diagnostic tool. By this method, you can download QuickBooks install diagnostic tool without downloading any additional application. Click here to download install diagnostic tool directly from Intuit's official website.
QuickBooks Install Diagnostic Tool Download Link:
http://dlm2.download.intuit.com/akdlm/SBD/QuickBooks/QBPDF/QuickBooksDesktopInstallDiagnosticTool.exe
Installation Steps
Once the file is downloaded, go to downloads folder and double click on the file to run it.
QuickBooks install diagnostic tool will scan your computer for QuickBooks installation and re-register the program from installation. It will also check and install missing components that are necessary the QuickBooks installation such as .NET Framework, MSXML, and C++.
QuickBooks program diagnostic tool will complete the scanning process and display a message to check if the issue is fixed. If the issues in not fixed, press cancel to install the additional missing component and update your Windows.
If none of the above-mentioned steps work, seek help from a Microsoft certified professional or an Intuit certified ProAdvisor. Alternatively, you can also call QB Techs' support representative in order to get priority help with your QuickBooks issues.